Presents
BPIS CH Avalor's Pa Rum Pum Pum Pum "Drummer" BISS
Sire: BISS CH Avalor's INXS BPIS
Dam: CH Avalor's National Anthem
Whelped: 12/21/05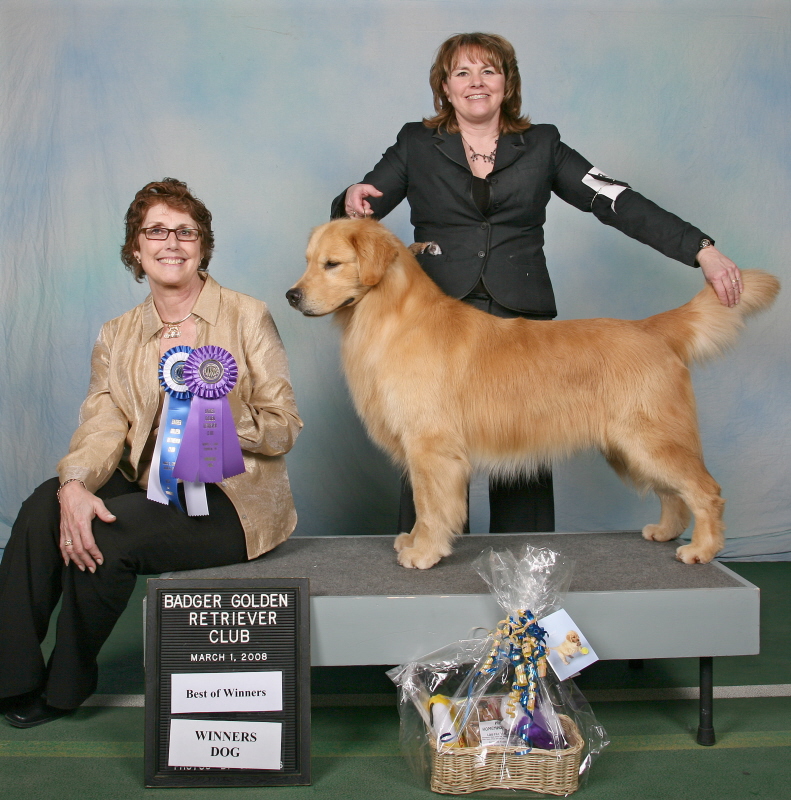 Drummer-Best of Winner's from Bred-by March 1st, 2008 Badger Specialty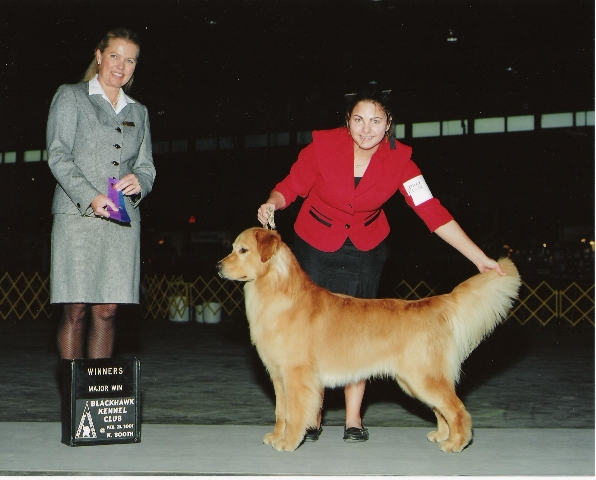 Drummer-4 point major- @ IKC 14 months old
Achievements:
When Drummer's owner (Melissa) called and said that she had to start working weekends, I jumped in and asked, "Will you send Drummer to me, I will show him? So, Drummer came from Ohio to me in February
with one major and two single points.
Since then, we have had a wonderful few months together…….
March 2008-Drummer Best of Winner's from Bred-by Badger Golden Retriever Club! (Judge Debbie Kahla-Kvamme)
April 2008-Drummer Winner's Dog Golden Retriever Club of Greater St. Louis!
(Judge Carl Liepmann)
May 2008-Drummer Winner's Dog from Bred-by and NEW CHAMPION
AVALOR'S PA RUMUM PUM PUM!!! (Judge Everett Dean) ALL OWNER HANDLED!!!
Just in from OFA…………Drummer "GOOD" hips and "NORMAL" elbows!!!
February 2007! Drummer's first major, WD at the IKC shows on Friday and Best In Sweepstakes at the IKC shows on Sunday! Way to go Drummer!!!
Drummer is a puppy out of my "Christmas Song" litter.
This litter was an extra special surprise to me. Not having a boy around here for quite some time
I got reminded that males mature faster than I realized. Noah being a young boy at only 8 months old
sired this litter to my disbelief! He didn't even lift his leg yet!!! So off I went to all the various vets
to get clearances. Thank the Lord, he passed everything and his pre-lims on his hips were good and
elbows normal-Whew, what a relief! So, I believe Drummer is a gift, he is a beautiful puppy that was
not planned out by looking at pedigrees or doing progesterones. But since Drummer was born a few days before Christmas, he was my present from above.
Drummer is owned by Melissa Harless and co-owned by me.
Pedigree of "BPIS CH Avalor's Pa Rum Pum Pum Pum "Drummer" BISS"

Parents
GrandParents
GreatGrandParents
SIRE

BISS CH Avalor's INXS BPIS     

CH Summit's Dakota Life's a Dance

 CH Goodtime's Best Case Scenario

CH Summit's Shadow Dancer

CH Karagold Sandpiper Steam N Cream

CH Gorca's Maximus Gladiator

CH Sandpiper's Eggspresso

DAM

CH Avalor's National Anthem

CH Dakota's Magic Hell'ucination

CH Faera's The Story of My Life OS SDHF

Honor's Dakota I'm Irresistible OD

Golden Meadows Miss Fancy Pants

CH Evergreen's Blue Angel NA WC CGC VC SDHF OS

Golden Meadows Cream of the Crop