Presents
BIS BISS GCH Avalor's INXS OS SDHF "Noah"
Sire: CH Summit's Dakota Life's a Dance OS.SDHF
Dam: CH Karagold's Sandpiper Steam N Cream
Whelped: 2/19/05
Hips-EXCELLENT/ Elbows-Normal/Heart and Eyes Clear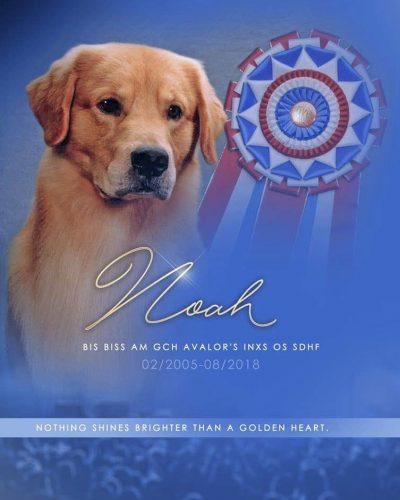 BIS BISS CH Avalor's INXS OS SDHF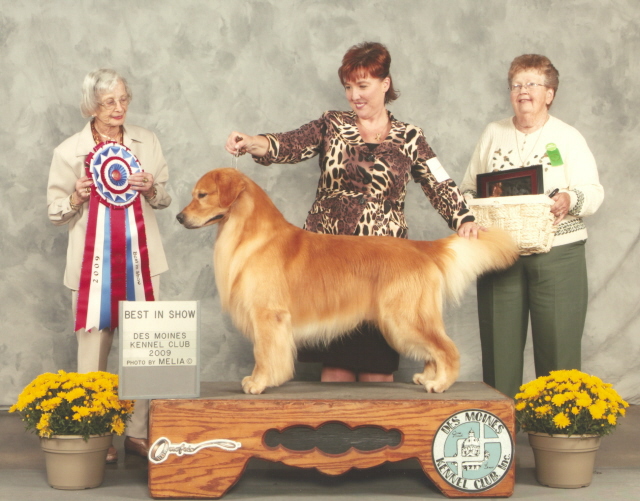 Noah Group 2 June 2010

Achievements:
Noah was one of those puppies that I just had a gut instinct that he was going to be some boy! His second weekend of showing he got Best Puppy, Puppy Group 1, and on to Best in Show Puppy!
Next was the 2005 National, Noah made the cut in sweeps and made two cuts in regular. He ended up being one of the last ten 6-9 puppy boys in the ring.
Noah welcomes everyone into our home (people and dogs). He has a good temperament, wonderful structure, beautiful movement and is a great dog to live with.
Noah is 23 1/2 inches tall and is a rock hard 76lbs. He is very balanced with a great front assembly. Noah has abundant wash and wear coat, (I can even show him when he has totally blown it!)
His head and expression are very pleasing and he has a nice small ear. In his puppies, he has been improving fronts, bone, head, coat, and movement.
Noah loves to retrieve and go running with me when I drive the 4-wheeler in our fields.
August 13th, Best of Winner's for 1 point under judge Jane Forsyth
August 26th, Winner's Dog under judge Dr. Elizabeth Trainor (short of a major by 1 dog!)
August 27th, Winner's Dog under judge Mr. John Lawreck for a 3 point major!
September 16th, Best of Winner's for 2 points under judge Barbara Dempsey Alderman
September 17th, Best of Winner's for 2 points under judge Carl Liepmann
October 14th, Winner's Dog for his last two single points under judge Jamie Hubble
January 5th, 2007 Reserve Winners Dog-Winning a very large open class- Judge Virginia Lyne
March 3rd, 2007 Winners Dog/Best of Winners/Best of Breed at the Badger Golden Retriever Specialty!!!
THANK YOU JUDGE LINDA STEBBINS-HURLEBAUS
I have had the pure pleasure of putting all of the points on Noah myself in just a little over six months
March 31, 2007, First time out as a Special-Noah takes Best of Breed and a Sporting Group 2!!!-Judges Breed Steve Sorenson, Group Carol Esterkin
At the present time Noah has recieved many Groups 1's by many respected judges: A. Krause, Jim Reynold's, Eugene Blake, Judith Goodin, Ann Hearn, Houston Clark and others. 4 Best in Specialty wins and a Judges Award of Excellence from Elliot Weiss at the 2008 Eukanuba Champonship.
September 5th, 2009, BEST IN SHOW! Des Moines Kennel Club around 1200 dogs entered in the show with over 100 Golden Retrievers!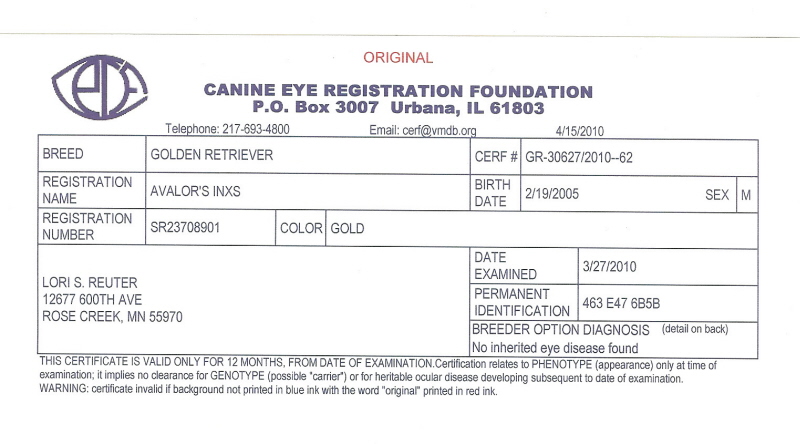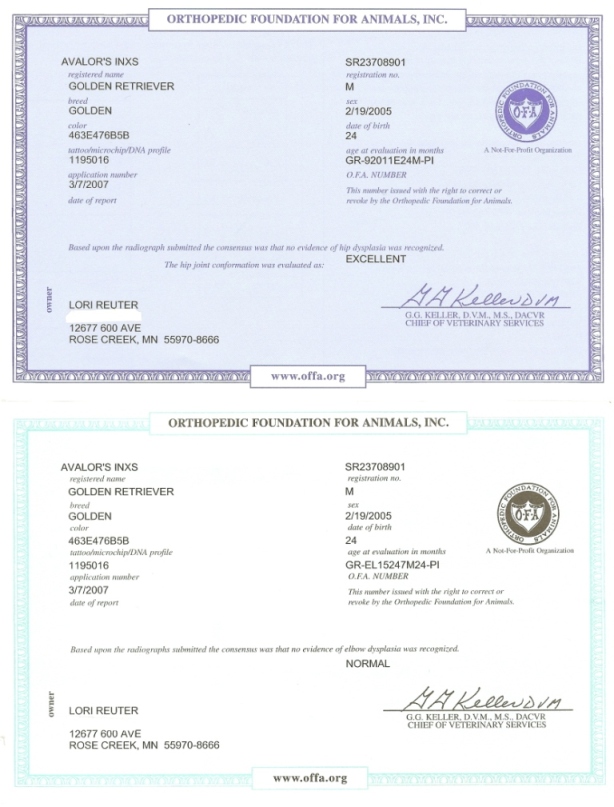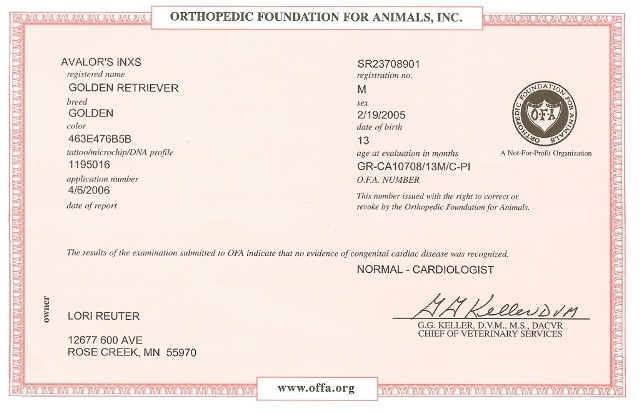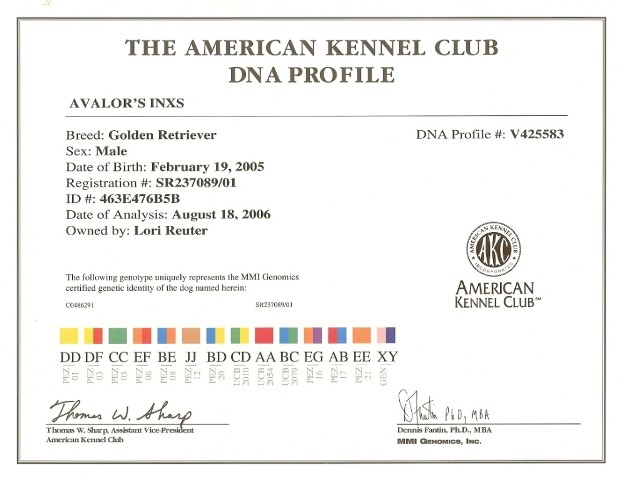 Pedigree of "BIS BISS GCH Avalor's INXS OS SDHF "Noah" "

Parents
GrandParents
GreatGrandParents
SIRE

CH Summit's Dakota Life's a Dance OS.SDHF     

 

BIS BISS CH Goodtime's Best Case Scenario CD JH WC VCX OS SDHF

 BIS BISS Am/Can CH Rush Hill's Haagen-Daz CDX JH AX OAJ WCX VCX OS SDHF
CH Gldn Lt Goodtime Happy Ending OD
CH Summits Shadow Dancer OD SDHF
CH Twin-Beau-D's Hi Speed Chase OS SDHF
Miramichi's Summit Shandine

DAM

CH Karagold's Sandpiper Steam N Cream

CH Gorca's Maximus Gladiator
CH Gorca's Merlin OS SDHF
BIS BISS Am Ven Col P. Rico CH Gorca's Pretty Woman OD
CH Sandpiper's Eggspresso
BIS BISS Am/Can CH Justmoore Believe In Me OS
CH Nautilus Boston Bunny OD