---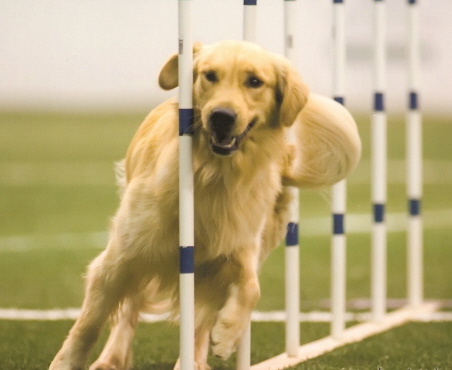 I have two golden's from Lori, Dillon (Avalor's Double Dog Dare Ya CD AX AJX) and Asti (Avalor's Double Bubble OA OAJ) they are both from the "Double" litter that was born on March 25th, 2004. They are a repeat breeding of Libby (CH Avalor's National Anthem) out of Nickers/Riley, hence the "Double " litter.
I would describe Dillon as a playful pleaser. He is such a happy, joyful dog who is so sweet and even tempered. I would trust him with my children 100%, he would NEVER harm a soul. Dillon adapts really well to new situations and is easily trained. I would like to get him certified as a therapy dog to bring to hospitals or nursing homes because he loves people so much. Dillon does agility, obedience and he also does all kinds of cute tricks.
Asti is my mother hen, she rules the roost! She is also very playful and happy too. She is a great agility dog that has a lot of drive and she is consistent and quick on the agility course. Asti is a great performance dog and has no fears or hang-ups about trying new things.
You can tell both Asti and Dillon were very well socialized with kids, noises, and different people in general. They are super friendly and they both have great temperaments.
I would recommend Lori to anyone looking for a well-bred, healthy, even-tempered Golden retriever. We have no health problems and no temperament issues with either dog and Lori is great about keeping in touch with us regarding Dillon and Asti.
The Koeger Family
Dillon on the weave poles in agility
---
Avalor Bred Dogs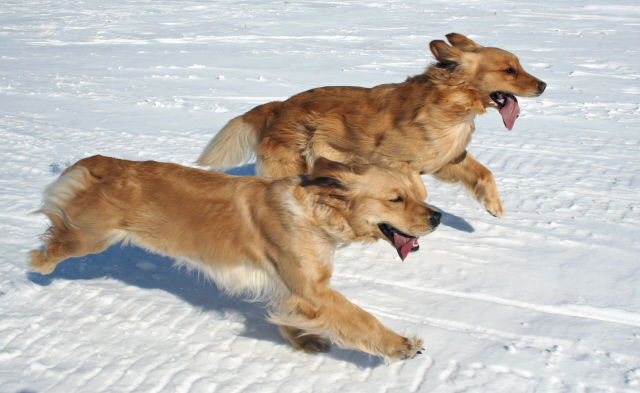 Beware of taking ten year old daughters to dog shows, you might end up with a beautiful golden retriever. That's how we ended up with Jewel. Jewel is a litter mate to Noah, Lori's stunning stud who is headed to the Eukanuba National Championship. Jewel was originally going to be a show dog project for our daughter. Jewel did well enough in the ring earning a best of opposite (ahead of her brother Noah) early in her career. However, my daughter did not continue with her dog show ambitions. But we have never regretted purchasing Jewel or our relationship with Lori and Avalor Golden Retrievers.
Lori went above and beyond all reasonable call of duty in her helping us with shows. She groomed Jewel, she handled Jewel, gave tips to our daughter on handling and put up with endless questions from me. I would recommend Lori and Avalor Golden Retrievers to anyone interested in acquiring a quality dog (whether for show or a pet). Lori has displayed the utmost in integrity in her business dealings with me and others I have sent her way. I will note here and now that I used to think it was silly to spend money on pets when you could get one for free at a shelter. I have completely changed my mind on this. You will save money buying a quality bred dog. You pay for quality once and enjoy it everyday.
Jewel has proven to be an absolute joy to own. She is happy and friendly, a magnet to kids and adults alike. She is intelligent and easy to train, very loyal and wants to please. She has also shown a degree of versatility. With no field training, she proved an effective hunter. On her 1st South Dakota pheasant hunt she made an impressive 150 yard wounded bird retrieve. She is training for fly ball where she shows promise (speed and agility). This summer she helped me campaign for political office by walking in parades where she left a notable and positive impression. She is always available to share love when you feel down.
Erik Larsen
---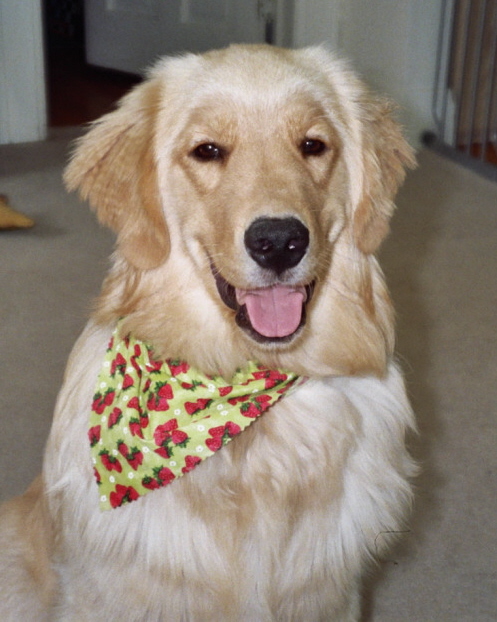 Rocco is a very sweet boy with a good temperament and a very fun loving attitude. He learns new things very quickly and is always ready to have some fun at any moment. He is such a great dog not to mention he is very beautiful. He has a very thick coat and wonderful bone structure and a handsome face. He is very much a correct golden. I feel privileged to have gotten such a wonderful boy and would definitely love to add another Avalor Golden to our home in the future.
Stacey
Rocco is a Latte/Truman Puppy born Oct. 2006
---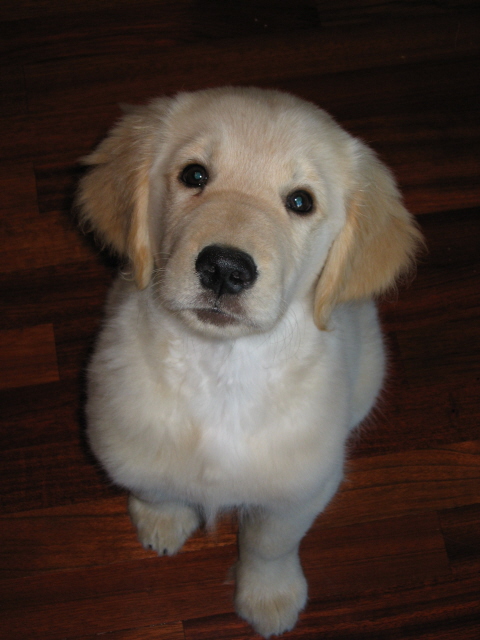 When we decided to get a dog, my son immediately stated that he wanted an "Airbud" dog, from the movies Airbud. We also liked golden retrievers in general so the decision to get a golden was made. Now, it was to find who we were going to get the golden from. We met Lori at the Minneapolis Dog Show and instantly we knew that we would be getting our golden from her. Levi comes from the Move litter in March 2005. We couldn't have asked for a better dog! He is great with our young children and everyone that meets Levi just adores him and his golden personality. It has been a pleasure working with Lori and we look forward to purchasing another golden from her when the time comes!
Sincerely,
The Cotten's